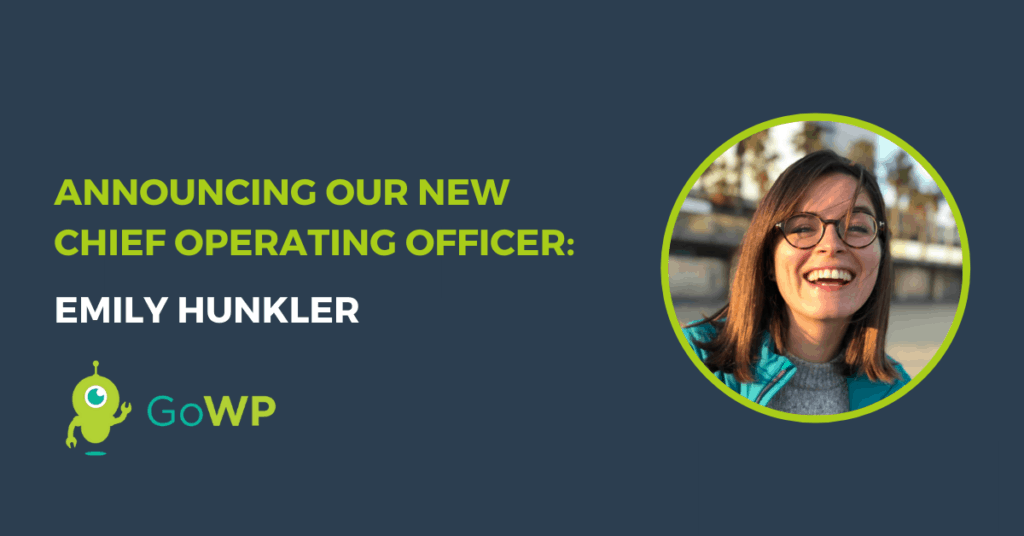 I'm excited to announce that Emily Hunkler has been promoted to Chief Operating Officer of GoWP. In this role, Emily will manage the day-to-day operations of GoWP and will continue to champion our mission of creating happiness.
Our Sales, Marketing, WordPress Services, and Creative Services departments will report to Emily.
'Our mission is to create happiness — and I have held that close to my heart since day 1 at GoWP.' @emalihu
Click To Tweet
Emily has been a member of the GoWP team for 3 years and has been instrumental in our growth. She is a proven leader with a track record of success, having held positions of increasing responsibility, from Marketing Coordinator to Marketing Director, and most recently, serving as our Director of Growth. Emily has helped grow GoWP from a team of 4 to a global team of more than 50. Through it all, she has kept our mission to create happiness paramount.
Emily possesses the rare ability to think, plan, and execute strategically. And she does that with a spirit of helpfulness and encouragement, embodying our core values and motivating those around her.
We are incredibly fortunate to have her leadership at GoWP.
About Emily Hunkler
From: Granville, Ohio.
Current location: Athens, Ohio.
Education: Master's Degree in Digital Marketing and Communication from the Autonomous University of Barcelona. Bachelor of Arts in Journalism and Bachelor of Arts in Political Science from the University of Kentucky.
Personal: Married to Marc with two little girls: Ivette, almost 5 years old, and Lydia, 2.5 years old.
Fun facts: Emily speaks three languages: in 2012, she moved to Barcelona, Spain and lived there for 6 years. It's where she met her partner Marc and where her first daughter was born. Because of her new family and her interest in the local culture, she learned Catalan. She also speaks Spanish and, of course, English. She is also a long-distance runner.
"Our mission is to create happiness — and I have held that close to my heart since day 1 at GoWP. That applies to our team, our customers, and our community. And when it comes to developing new services for our customers — we always start with, 'how can we create more happiness for an agency owner?' And from there, the ideas for new services flow. It's a really fun and beneficial process when it's framed in that context." – Emily Hunkler