Last Updated on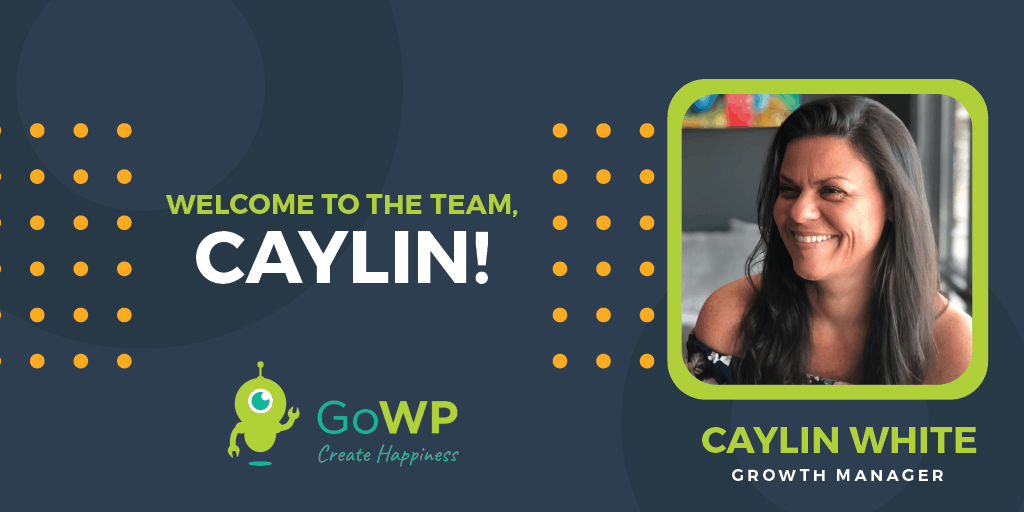 New year, new team members! It's already February and we have grown our team to prepare for the amazing year ahead. 
We welcome Caylin White, our newest GoWP team member as the Growth Manager. Fitting title as we are growing so fast! We sat down with Caylin to find out a little more about her background, her adventures in WordPress and her goals with the GoWP team. 
The GoWP team is growing! Get to know their awesome new Growth Manager Caylin! Bonus: Cute picture of her dog at the end 🐶 #WordPress
Click To Tweet
About Caylin
From: Ann Arbor, Michigan. 

Current location: Atlanta, Georgia 

Current Status: Wife, Step-Mom, and Rescue Dog Parent 

Experience: 12 years of Sales and Marketing; 6 years of WordPress; HubSpot Certified

Fun Factoids: Artist, video gamer, and collector of Stephen King novels
What is your role at GoWP?
I am the GoWP Growth Manager.
Joining the GoWP team is exciting for me because I fell in love with WordPress many years ago, much like everyone else. My role as Growth Manager will be to assist the amazing team in their foundational efforts to grow the business through marketing and sales. 
Fundamentally, I will be heading up partnership growth, content awareness, social media presence, lead generation and conversion and efficiency across all departments. I also get to help promote new services as we bring them on. No spoilers, yet. 🙂  
I feel very fortunate to have joined a team that already has such a solid grip on their marketing efforts. I can't wait to see it skyrocket! 
Why do you enjoy most working in the WordPress world?
I have been in the WordPress world for a little over six years now. Over the last year and a half, I truly become a part of the community — learning about maintaining WordPress sites, helping organizations grow and through that, growing my own understanding of it. I have taken multiple certification courses and even built my own WordPress website. I just love it! 
Understanding the power of the relationships built in WordPress is my favorite thing about it. I truly believe that the connections we build by helping others is priceless. I hope to grow even more relationships through the WordPress community working with GoWP. 
What have you learned in your past roles that you'll take to GoWP?
What haven't I learned? I have been blessed to work with some amazing people along my career path. 
The biggest thing I've learned is how to build trust with people the old-fashioned way. I love taking the time to learn their story, learning what makes them tick and finding their passion so that I can help them. I hope that my compassion will ring true in my new position here at GoWP. 
Can you tell us about your personal passion project?
My personal passion project (I love that term!) is my artwork. I am an artist at heart and have been my whole life. I create custom art and design, mostly abstract pieces that revolve around daily wellness and positive mental health. 
They're called Artfirmations — artistic affirmations designed to help you positively reinforce a good mindset. They are a combination of watercolor, design and good old-fashioned drawing that come in a set or framed in prints. My art is available locally at KSquared Artisan Boutique at Northpoint or Cobb Galleria in Atlanta. But you can also find them on my website (powered by WordPress!) at CBCInked.com. 
I use this project and website to try out techniques in WordPress management, email marketing, social media outreach, and digital marketing so I can hone my skills through my hobby as well. You never know, I could be the next Picasso! 
Anything else to share?
I am a rescue Mom! This is Sophie. She has been a big part of my motivation to be successful. Sophie Love White is my rescue puppy of 5 years, my favorite co-worker and my best friend. She loves WordPress too.