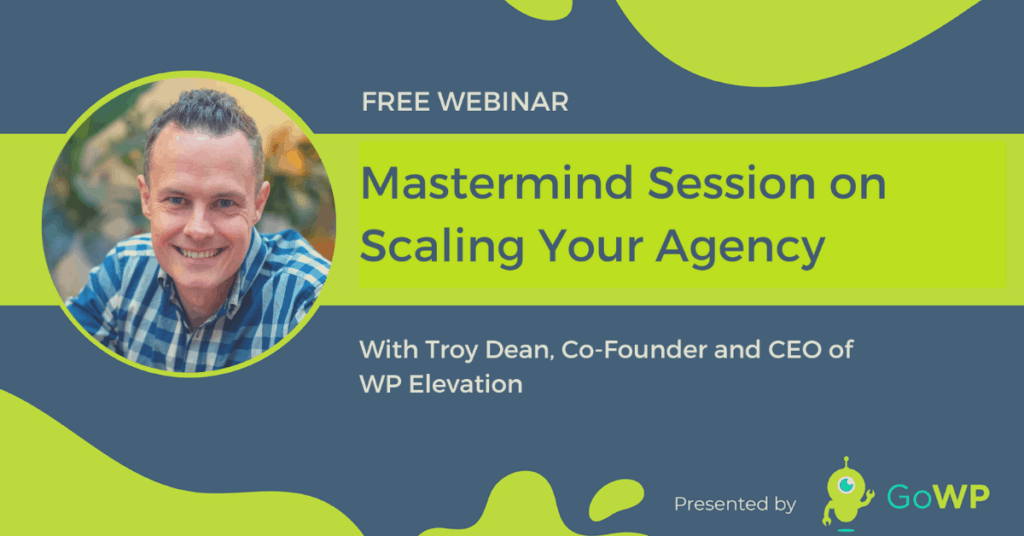 Mastermind Session on Scaling Your Agency with Troy Dean 
It's time to scale your agency and find freedom. Owning an agency doesn't mean you have to be on the clock 24/7 to make it successful. In this webinar, Troy Dean shows you how to increase your revenue, be the best business owner you can be, and find freedom.  
How can you scale a business and find freedom at the same time? 
In this GoWP webinar, Troy Dean covers everything you need to know to grow your agency without you needing to be there (or doing everything).
Learn how to find freedom with these Troy Dean knowledge bombs: 
How to grow your agency when you're not there
Teach your prospects to trust your process 
How to create repeat business and quality referrals
Help your team be at its peak performance 
Get involved in a supportive network of peers and mentors 
Don't forget to celebrate the wins
We were so excited to host Troy for this webinar! Not only did we learn a lot, Troy answered a lot of agency owners questions live. We took notes furiously, and jotted some down to share. 
Troy teaches us three things you need to grow an agency:
Authority – Build trust
Product – Niche down
Leverage – Build partnerships
He also shared his step by step process of "The Client Acquisition Formula" that really works. 
Mindset – Set your intention and be sure you're in the right mindset for success.
Position Your Offer – Define your product or service specifically.
Niche Down – Focus your energy within your circle of influence.
Pan Gold – Donate your time, product or service and drive organic traffic.
Run the Bases – Insert sales and marketing after you've built relationships.
Home Run – Run the numbers, evaluate and do it all over again.
Here is a snippet of Troy's genius white board session where he shows us the power of the earning potential you have within your circle of influence. Keep watching at GoWP Webinars.
A Bit About Troy Dean
A proud Australian and university dropout, Troy has managed to use the internet to grow a successful company helping over 100 thousand digital creatives build thriving businesses.
He has created dozens of online courses, co-created the plugins Video User Manuals and White Label CMS, presented at multiple events like WordCamp, Digital Marketing Summit and Traffic & Conversion Summit, hosts the WP Elevation podcast and also runs the mastermind program, Mavericks Club.
Interested in partnering with GoWP? We want to meet you!
Create a free partner account with GoWP and get free access to resources that will help you grow your agency. The GoWP Knowledgebase offers lead magnets, landing page templates, and more!
Learn from workshops, webinars, and exclusive interviews from the experts – and join in on a little Happiness Hour fun in the Niche Agency Owners Facebook Group, a highly vetted community of agency owners.