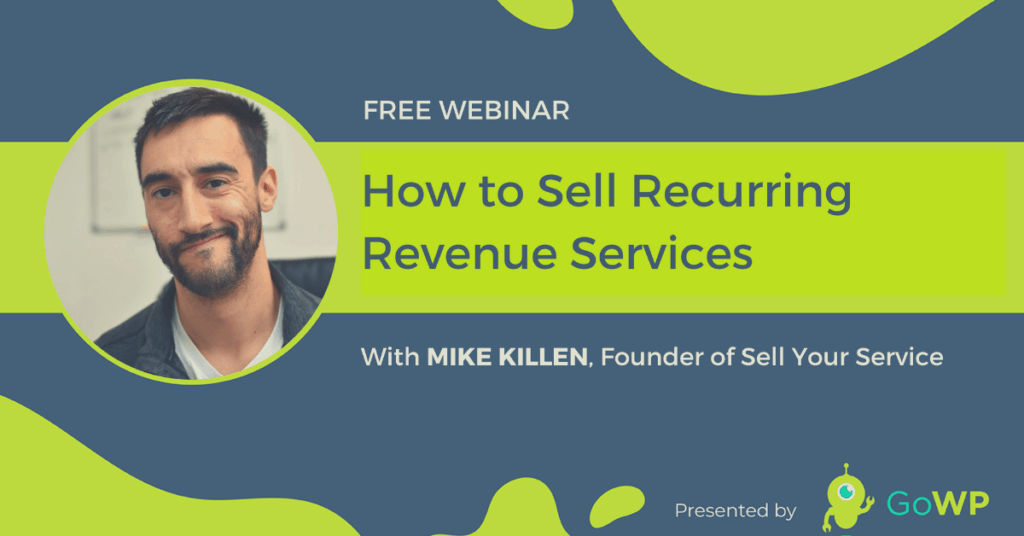 How to Sell Recurring Revenue Services with Mike Killen
Selling a service as a recurring revenue may seem like an impossible dream. News flash! Customers WANT a recurring revenue product! Mike Killen is an expert at selling services and he is going to show you how you can get your clients more time back per month. 
How can you get clients to give you money every single month with services?
In this webinar, Mike will cover everything you need to know to start selling services and making recurring revenue monthly.
You'll learn:
How to price out your services.
How to pitch your services to your clients. 
What features to include when selling your services. 
How to show the value of a subscription-based service. 
How to upsell your services in the future. 
How to answer frequently asked questions about selling your services. 
Mike is the go-to guru for selling your services, so having him on this webinar was a no-brainer! Not only did we learn a lot, Mike crushed the challenges that agency owners face when they are trying to sell their services. 
Mike walks us through the stages of an agency owner selling their services and how to get over those roadblocks: 
What myth you follow 
What you attempt
What mistakes you make
He sheds some light on the "clarity" affect and the future benefits of that. Sell futures, not features. 
Here's a hint. All the client cares about is the "WIIFM" mentality – "what's in it for me"? If you can help them to picture their future, offer them clarity, more time to spend with their family and less time building their business – you've got a formula to sell your services. 
Here's what you should not think about – SALES! Tune in to the webinar to find out why. Keep watching at GoWP Webinars.
Interested in partnering with GoWP? We want to meet you! 
Create a free partner account with GoWP and get free access to resources and templates that will help you grow your agency. The GoWP Knowledgebase offers lead magnets, landing page templates, and more! 
Learn from workshops, webinars, and exclusive interviews from the experts – and join in on a little Happiness Hour fun in the Niche Agency Owners Facebook Group, a highly vetted community of agency owners.