FREE PANEL DISCUSSION presented by GoWP
Live: March 2 at 12:30 PM ET
Selling Your Digital Agency
Join us for an open and honest discussion of what goes into selling a digital agency and how you can position your agency for maximum value. 
Space is limited, register now!
Have you ever thought about selling your agency? You may be surprised to learn that what you think your agency is worth, is not the case at all. 
In this panel discussion, we'll talk with people who have been through the acquisition and selling process. We'll learn through their experience so you can be better informed of what goes into business valuation and selling a digital agency.
If you haven't thought about selling your agency, this panel discussion will still have plenty for you. Whether you're interested in selling or not, building an agency that has objective monetary value should be every agency owner's goal.
In this value-packed panel discussion, you'll learn:
How to determine what your agency is worth to potential buyers
How to build a business with value in mind
Things to consider when thinking about selling your agency
Real-life experiences of selling an agency
Lessons from the panelists that they wished they would've known before they sold
… and much more!
We will save time at the end for Q&A with the panelists.
Registration now open!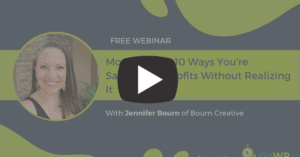 In this webinar, Jennifer Bourn will help you discover 10 common, yet often overlooked, money leaks in your website projects.
Watch webinar »