Webinar previously recorded January 22, 2020 — 12:30pm ET
Google Analytics for WordPress Professionals
Join Chris Edwards, of Data Driven Labs, as he teaches us how to master Google Analytics for your agency and your clients.
Data analytics is essential to running an online business. Join Google Analytics pro Chris Edwards as he demystifies the ins and outs of this vital agency tool. 
In this webinar, Chris covers a bit of the basics and then dives right into the good stuff that has left you scratching your head, until now.
You'll learn how to:
Install Google Analytics on WordPress sites
Create better reports
Learn how to optimize your segments
How to track events and measure growth
Create goals and track how you're performing
Once you've mastered these skills in Google Analytics, you'll be able to provide your clients with a more complete service. Not to mention, if you're looking for a new product to add to your list — analytics is a great opportunity!
Data analysis helps businesses better understand their audience, and is truly a necessity in today's world.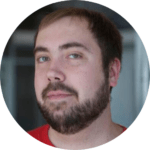 CHRIS EDWARDS
Data Driven Labs
Chris is co-owner of Data Driven Labs, a WordPress Maintenance and Marketing agency.
He is a 19-year Internet marketing veteran with experience in web design & development, search engine optimization, online marketing, social media marketing, and mobile development.