Webinar previously recorded April 15, 2020 — 12:30pm ET
How to Start Your Own Podcast​
Join Joe Casabona, founder of Ship Your Podcast and the How I Built It podcast, as he explains how to start your own podcast from scratch, step by step
You've probably heard it said, "Podcasting is the new blogging." 
But there are a lot of steps. Where do you begin? 
This webinar will show you how to start your own podcast!
Joe Casabona, an expert podcaster in the WordPress space, will show you everything you need to do to start your own show:
Picking a topic
Grabbing the right gear
Recording your first episode
Tools for getting the show online
Where to submit
Tips for engaging with your audience
Stay tuned for the Q&A at the end!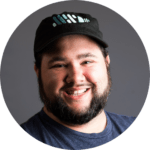 JOE CASABONA
Founder, Ship Your Podcast
Joe Casabona is a college professor, author, course developer, and podcaster.
His passion in both areas drove him to create courses for The University of Scranton, LinkedIn Learning, and his own community of business owners.
Today, he helps people tell their stories through podcasts and video.