Webinar previously recorded September 4, 2019 — 12:30pm ET
How to Market Your WordPress Business
Join Alex Denning, founder of Ellipsis Marketing, as he explains how to get your service in front of the people who will pay for it.
Having the right marketing channels for your WordPress business is the difference between having a thriving WordPress business, and a struggling one.
You can make a great product or service, but if you're not able to effectively get it in front of people who need and will pay for it, that's no use. The difference can be choosing the right marketing channels.
This webinar will explore:
What marketing channels are

The "Channel Philosophy"

How to pick the right channels
Alex's aim is to give you a clear framework on how to think about marketing your WordPress business.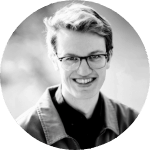 ALEX DENNING
Founder, Ellipsis Marketing
Alex Denning is the Founder of Ellipsis Marketing, a marketing agency for WordPress businesses.
He's also the co-author of MasterWP.co, a weekly newsletter for WordPress professionals.
Alex lives in Oxford, UK and is a keen runner, photographer, and traveler.