No matter what you're wondering about WordPress coupon codes, this post is set to answer your questions.
In it, I'll cover everything you need to know about working with coupons in WordPress.
You'll learn:
If you already know what you're interested in, you can click on one of the links above to jump straight to the specific section.
Otherwise, let's take a deep dive into everything you'd ever want to know about WordPress coupon codes.
How to Display Coupons from Other Stores on WordPress
In this first section, you'll learn how to create a WordPress coupon code website where you collect and display coupons from various stores – kind of like RetailMeNot.
This is a great way to earn an affiliate income because every time you send someone to a store after they find a coupon, you get a cut of the sale.
While it's tough to compete with a general coupon site nowadays, there's plenty of room for niche sites. For example, maybe you create your own niche WordPress promo code website that helps people save on plugins, themes, and hosting.
To create this type of site, you can either use a WordPress coupon plugin or a WordPress coupon theme:
Using a WordPress coupon plugin lets you pick any WordPress theme, but it can take a little more work to get everything set up and looking great. That is, you might not have a perfect WordPress coupon code site right out of the box.
Using a WordPress coupon theme pretty much guarantees that your site will look great and have all the necessary functionality right out of the box. However, you'll be more limited in the design of your coupon site because you can't choose from the full collection of WordPress themes (that is, you can only use the specific themes that have built-in coupon functionality).
Let's cover the WordPress coupon plugin route first. Then, I'll share some great coupon themes after that.
3 Best WordPress Coupon Plugins to Create a Coupon Site
All of these plugins help you display coupons from other stores on your WordPress site. As I mentioned above, the big benefit of using a WordPress coupon plugin over a coupon theme is that the plugin lets you integrate coupon functionality into an existing WordPress site, or into whichever theme you want to use.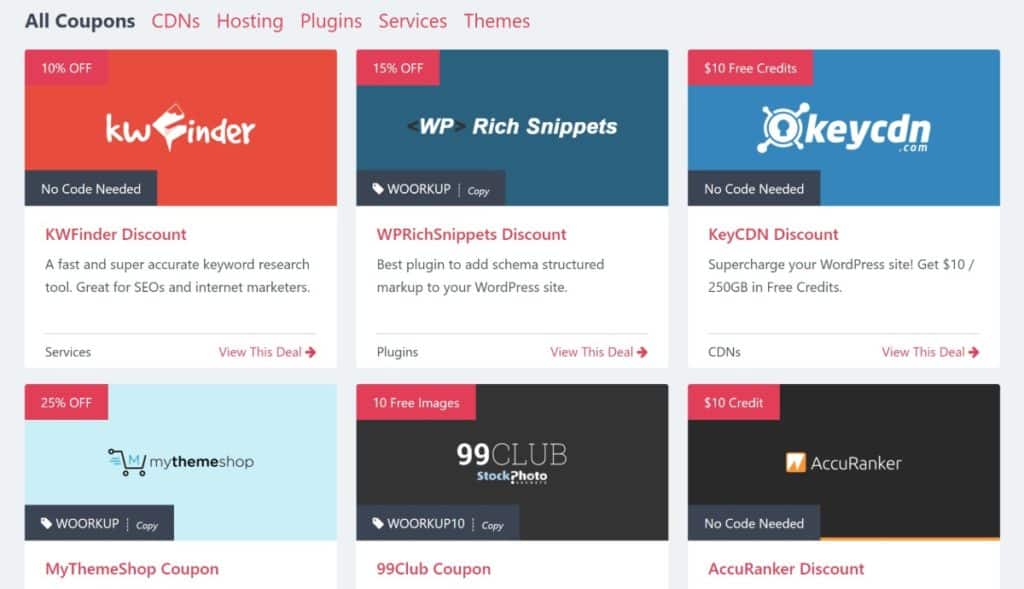 WP Coupons is a premium WordPress discount code plugin that gives you a few different ways to showcase coupons on your WordPress site.
First off, it creates a dedicated page for each store that lists that store's coupon code. But beyond that, it gives you a dedicated coupon widget that you can use to display coupons in your sidebar.
The neat thing here is that you can match certain coupons to certain WordPress content. For example, if you have a WordPress blog, you could showcase a coupon for a theme shop in the "WordPress themes" category at your site.
Beyond that, other helpful features include:
"Click to copy coupon" functionality.
Detailed options area to control how your coupons function.
Style controls.
And, because it comes from the same developer as the Perfmatters plugin, WP Coupons is super lightweight and performance optimized.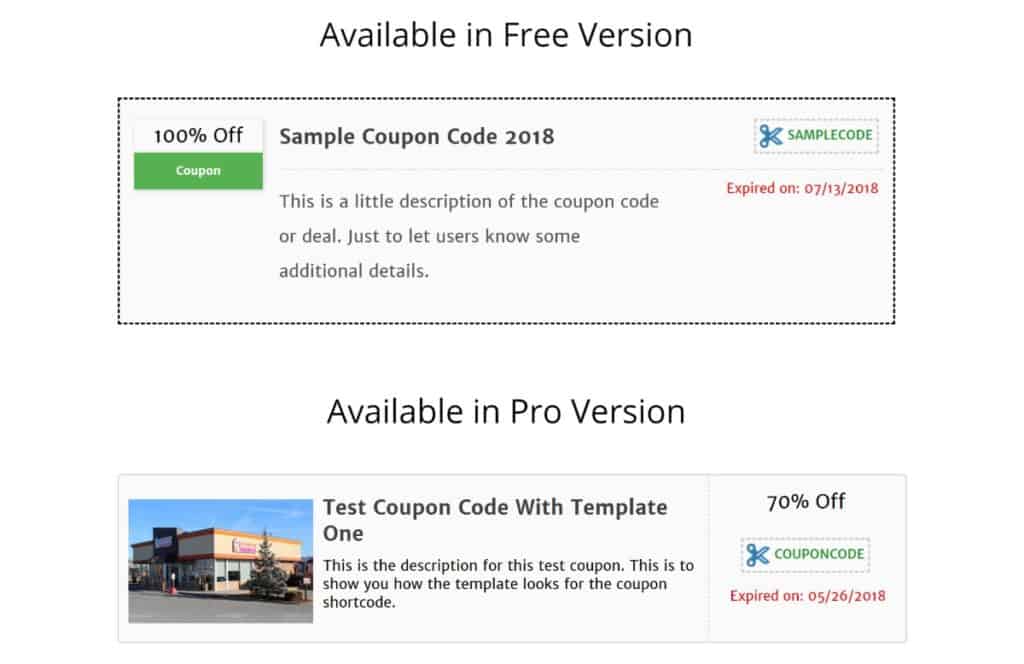 WP Coupons and Deals is a freemium coupon plugin that helps you display discounts and deals from other stores.
Because it has a free version at WordPress.org, this one makes a great option if you're on a budget. Even in the free version, you can create coupon codes complete with:
Click to copy functionality
A voting system for the coupon's effectiveness
Expiration dates
Coupon categories to help organize coupons
A widget to show coupons in any widget area
An option to insert the coupon shortcode right from the WordPress editor.
And if you upgrade to the Pro version, you'll get access to new features like:
A coupon expiration countdown timer
More coupon templates
Ability to showcase only coupons from a specific category or shop
A coupon archive page
Option to automatically hide expired coupons
The premium version starts at $29.99 for use on a single site.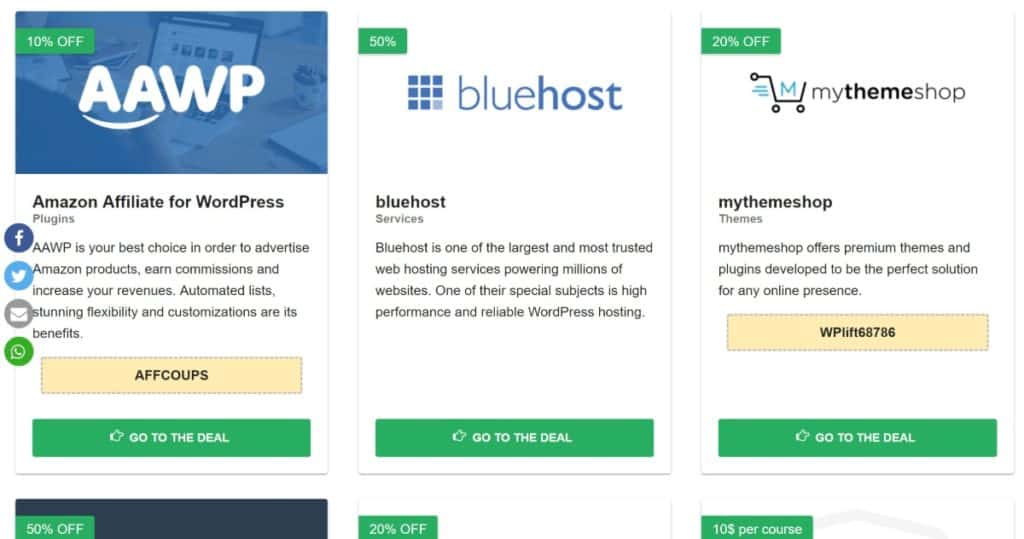 As the name suggests, Affiliate Coupons is all about helping you display coupons to help you generate affiliate sales.
You can add stores in the plugin's backend and automatically define your affiliate link for that store. Then, you can add as many coupons as you want for each individual store. Plus, you'll have plenty of options for controlling how those coupons display on the frontend of your site.
All that's available for free. But if that's not enough functionality, there's also a premium version that adds:
"Click to reveal" functionality for coupons
View, copy, and click analytics
More styles and templates
An option to feature specific coupons, as well as a popular coupons widget
The ability to create your own custom templates
The premium version starts at $39 for use on a single site.
5 Best WordPress Coupon Themes to Create a Coupon Site
Next, let's dig into some of the best WordPress coupon themes. All of these themes will give you a great-looking coupon site from day one. That typically means you'll get important functionality like:
AJAX search
Click to copy and go (or an option to hide the code until a user clicks)
Coupon rating to find dead/inactive coupons
Options to organize all the different stores that you offer coupons for
Etc.
Unfortunately, there aren't really any great free coupon themes with this functionality. But you'll find plenty of affordable options, and you can get started for as little as ~$40.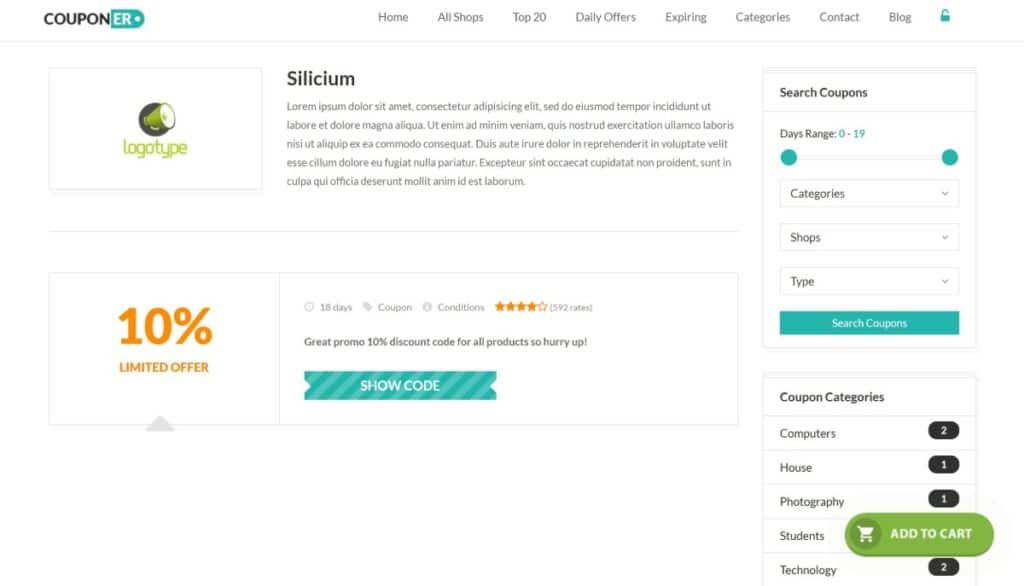 Couponer is a premium WordPress coupon theme that comes with everything you need to launch a WordPress coupon site.
It's got that ever-popular "click to show code and copy" functionality, AJAX live search, and a bunch of other features to help you create a successful coupon site.
Clipper is a popular WordPress coupon theme that offers detailed coupon functionality, along with a slew of customization features.
Beyond the core stuff like click to copy and plenty of search options, Clipper also includes dedicated features to help you monetize your site like:
An option to charge people to list coupons on your site
Built-in link cloaking and tracking to prettify your links and analyze which coupons generate the most sales
Built-in advertising spots (for AdSense or other ads)
You can also find other child themes that let you change up the look of Clipper's core functionality. For example, there's Flatter, Koupon, Clippy, and more.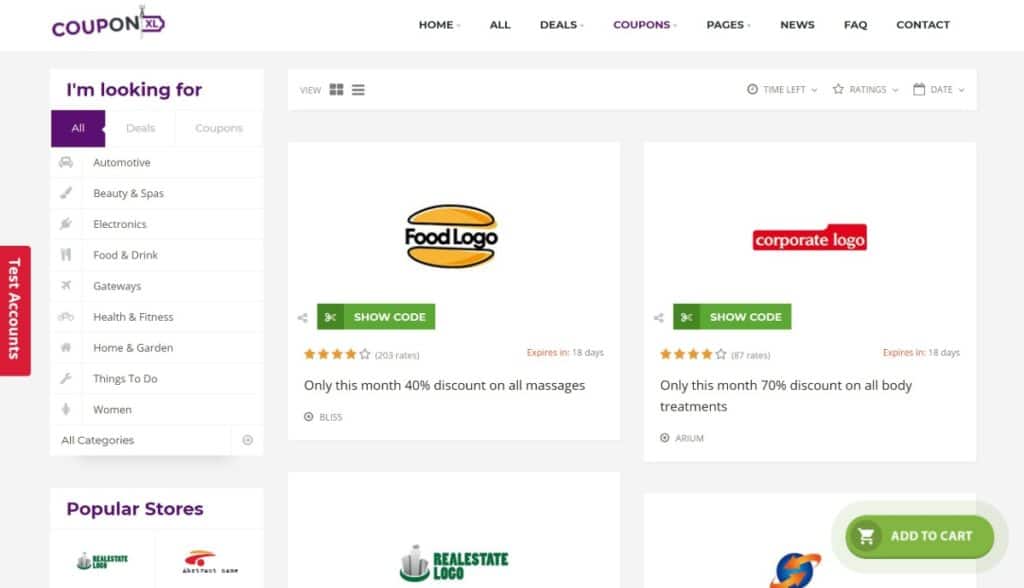 CouponXL is a dedicated coupon theme packed with some advanced features to help you manage your coupon site. For example, you can charge a fee for submitting a coupon, and cloak your affiliate links.
Beyond coupons, CouponXL also supports "deals" (like Groupon), which gives you another way to monetize your site. You can even charge different amounts for submitting a deal vs a coupon.
And, of course, it has all the core functionality that you need, like a great AJAX search system and "click to copy and go".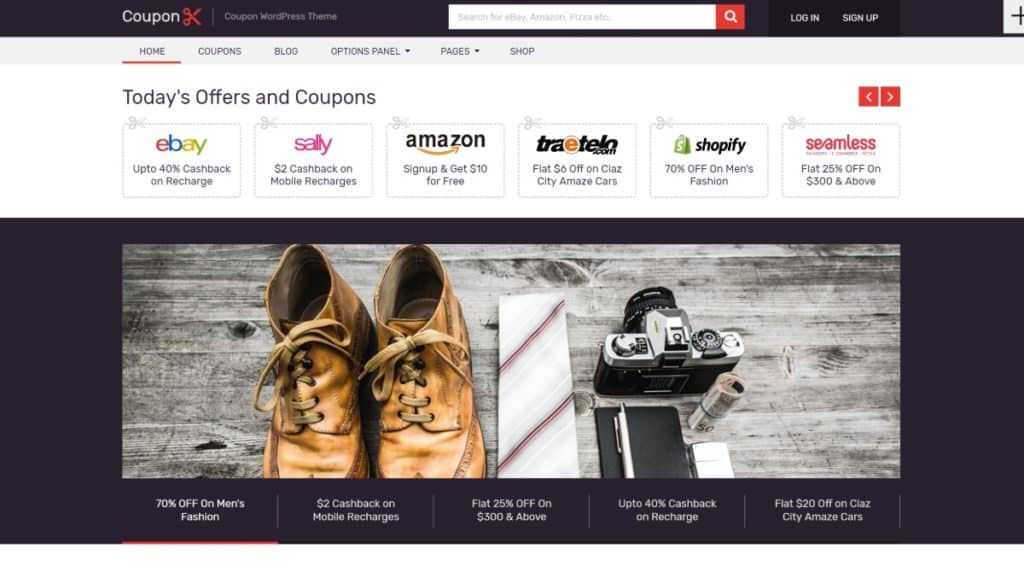 Coupon is a creatively named WordPress coupon theme from MyThemeShop. It offers a variety of different premade layouts that you can use to share coupons with your visitors.
It includes a "show coupon" feature that opens a popup with the coupon and takes people straight to the store (great for affiliate commissions). And it also includes a neat coupon slider that lets you showcase the best deals of the day.
Finally, it comes with the MyThemeShop theme options panel, which gives you a ton of control over how your coupon site looks and functions.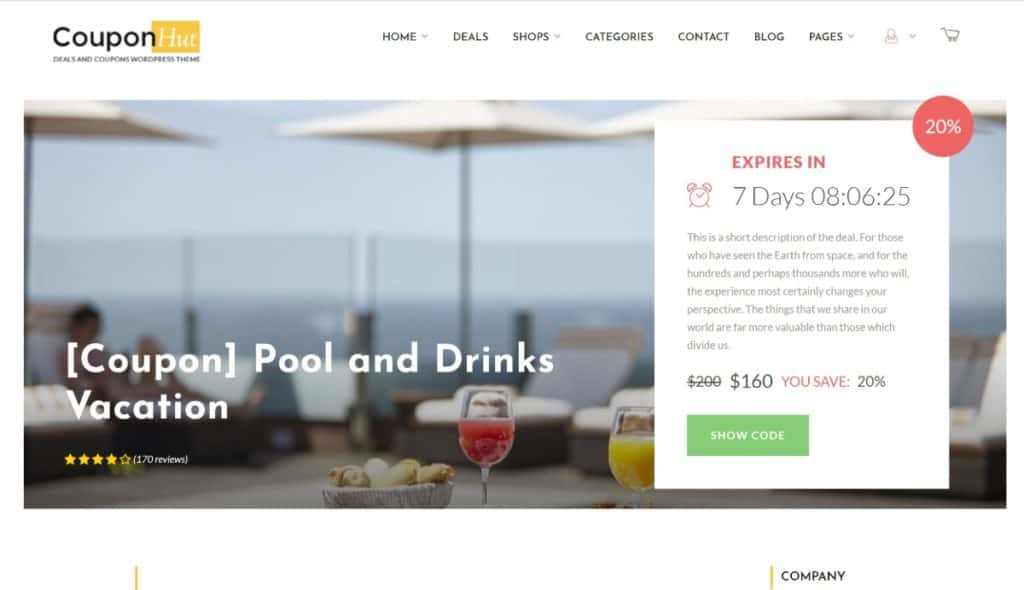 CouponHut is a WordPress coupon theme that gives you a great clean look. That is, the design is pretty minimal, while still giving you access to all the important coupon functionality that you need including:
Detailed search and filter options
Click to copy/reveal coupon
Expiration dates and countdown timers
Frontend social proof stats, like how many times a coupon has been viewed or redeemed
Dedicated ad blocks
Built-in coupon rating system
And in addition to coupons, you can also use CouponHut to create a deals site.
How to Create WordPress Coupon Codes for Your Own Store/Site
Now that we've thoroughly covered how to collect and display coupons from other sites/stores, let's dig into the other use for WordPress coupon codes:
Offering discounts and deals to your own customers. You can do this no matter if you're:
If you'd like, you can click above to jump straight to a specific use case. Otherwise, let's dig in, starting with offering printable coupons via your WordPress site (like for a local store).
How to Create Printable Coupons on WordPress (or downloadable)
If you want to create great-looking printable or downloadable coupons for your WordPress site, you can use the aptly named Coupon Creator plugin, which is available for free at WordPress.org.
It acts as a WordPress coupon code generator to let you create custom, printable coupons complete with:
Expiration dates
A visual design editor
Style controls
Once you install and activate the plugin, you can go to Coupons → Add New to create a new coupon: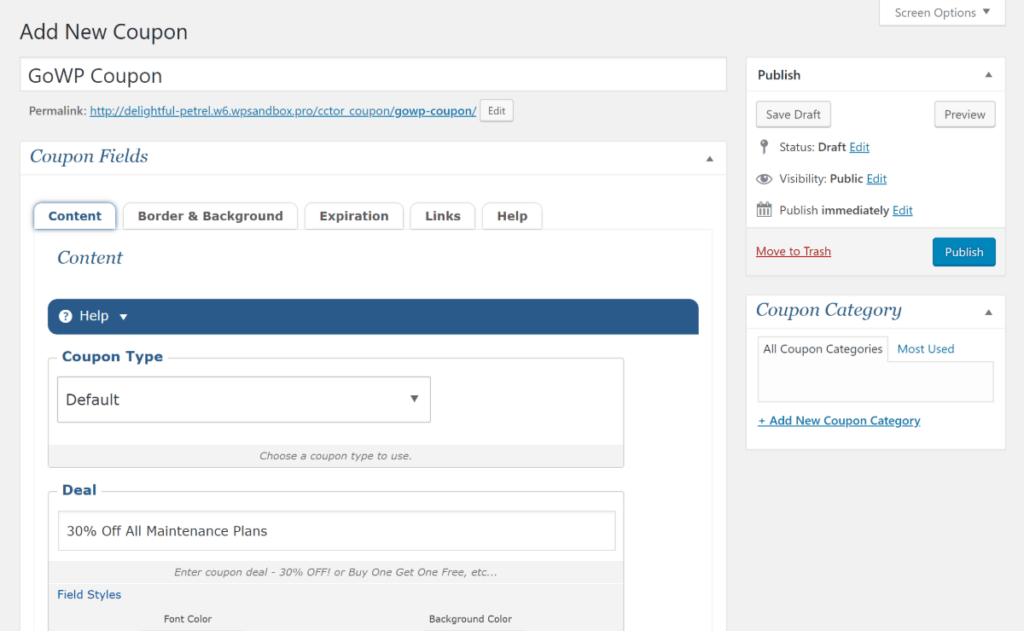 After publishing your coupon, you can embed it anywhere on your site using its shortcode.
If you need more functionality, there's also a Pro version that tacks on a lot more functionality starting at $34.
How to Create and Enhance WooCommerce Coupons
If you're running a WooCommerce store, coupons are definitely going to be something you'll want to learn about.
WooCommerce includes coupon functionality built into the core plugin, but there are also some great plugins that you can use to enhance this functionality and offer more complicated types of deals.
Let's start with the basic core functionality, though…
How to Use Core WooCommerce Coupons Functionality
To access the core WooCommerce coupons functionality, go to WooCommerce → Coupons in your store dashboard. There, you can click Add coupon to create a new coupon.
There, you can enter the code you want for your coupon and configure its options in the Coupon data box: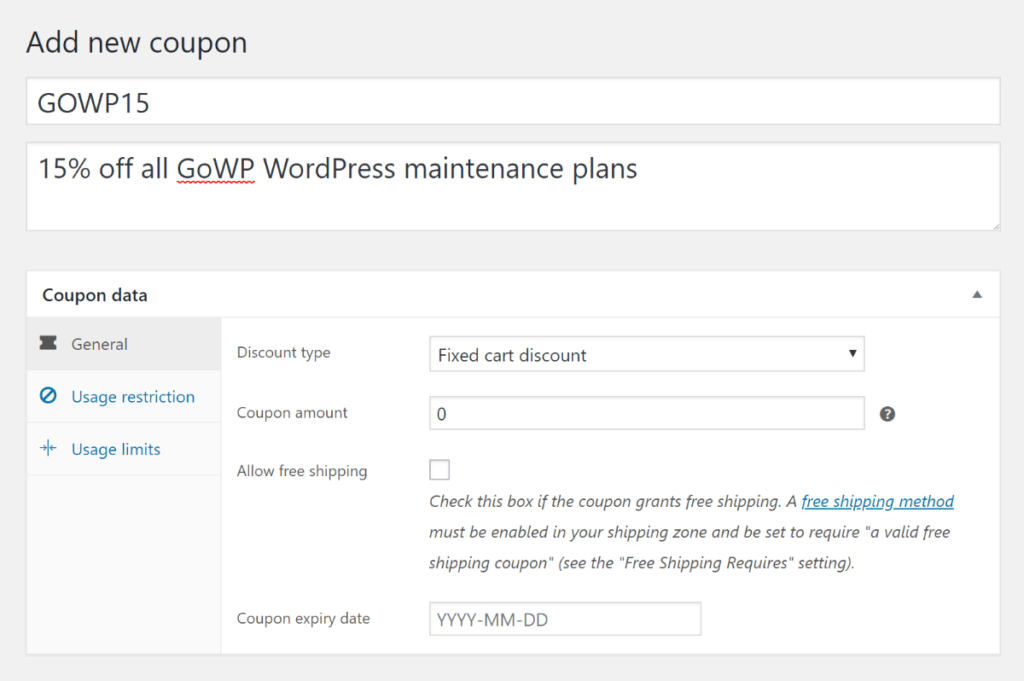 With the default options, you can:
Choose between a fixed cart discount ($5 off entire cart), a fixed product discount ($5 off each product X), or a percentage discount (15% off)
Have a coupon grant free shipping
Add an expiration date
Enter a minimum and/or maximum spend
Restrict the coupon to certain products or categories
Set a maximum usage limit for all shoppers, or for each individual customer
Best WooCommerce Coupon Plugins for More Functionality
If you want more functionality than the default WooCommerce coupon feature offers, you can find tons of great add-on plugins. Here are some of the best…
How to Use Easy Digital Downloads Coupons
If you want to create a coupon code for WordPress eCommerce powered by Easy Digital Downloads, you also have options.
Like WooCommerce, Easy Digital Downloads includes built-in functionality for offering coupon codes.
You can access this functionality by going to Downloads → Discount codes. You don't get quite as many options as you get with WooCommerce, but you can:
Choose between fixed or percentage discounts
Limit the discount to only certain products, or exclude certain products
Add a start date and expiration date
Set a minimum amount in order to be able to use the discount
Set a maximum overall number of uses for the coupon
Limit the coupon to one use per customer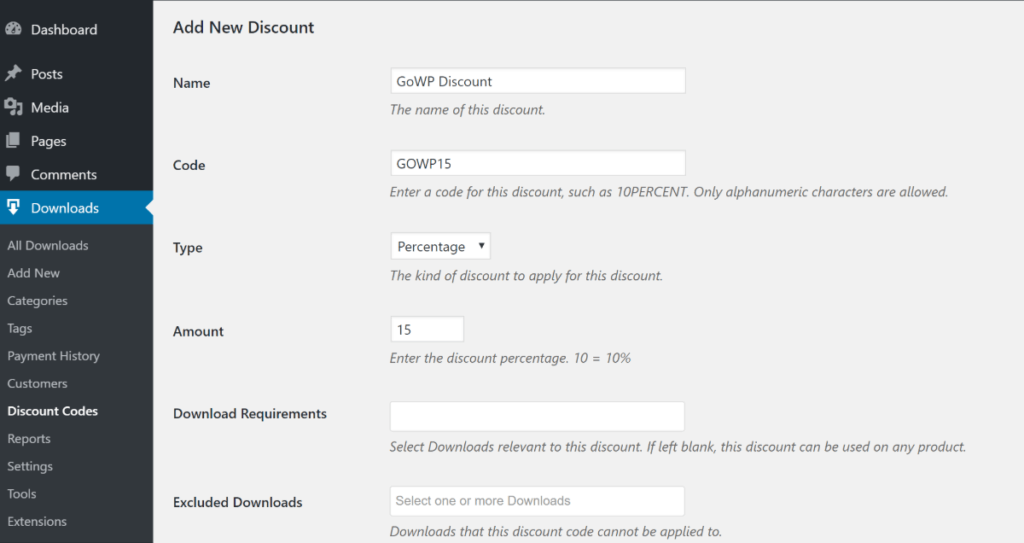 All that functionality is available in the free version of Easy Digital Downloads. But if you want to enhance the coupon codes that you offer via Easy Digital Downloads, there are also some great extension plugins that you can use:
EDD Social Discounts – $19 – lets you offer a discount in exchange for shoppers sharing or liking your products on social media.
Discount Code Generator – $29 – helps you generate discount codes in bulk and then export them via CSV.
Discounts Pro – $89 – gives you a lot more control over the conditions for your coupons.
How to Offer Coupons With Gravity Forms
If you don't want to use a full eCommerce plugin, but still want the ability to sell products and offer coupons from time-to-time, you might be happier with the Gravity Forms plugin.
Gravity Forms is a flexible form plugin that lets you create your own payment forms, complete with connections to most popular payment processors.
With the Gravity Forms Coupons add-on, you can add a dedicated Coupon field to your payment forms and also:
Choose between a fixed or flat-rate discount
Add a start and expiration date
Set a usage limit
Control whether or not a shopper can "stack" multiple coupons for a bigger discount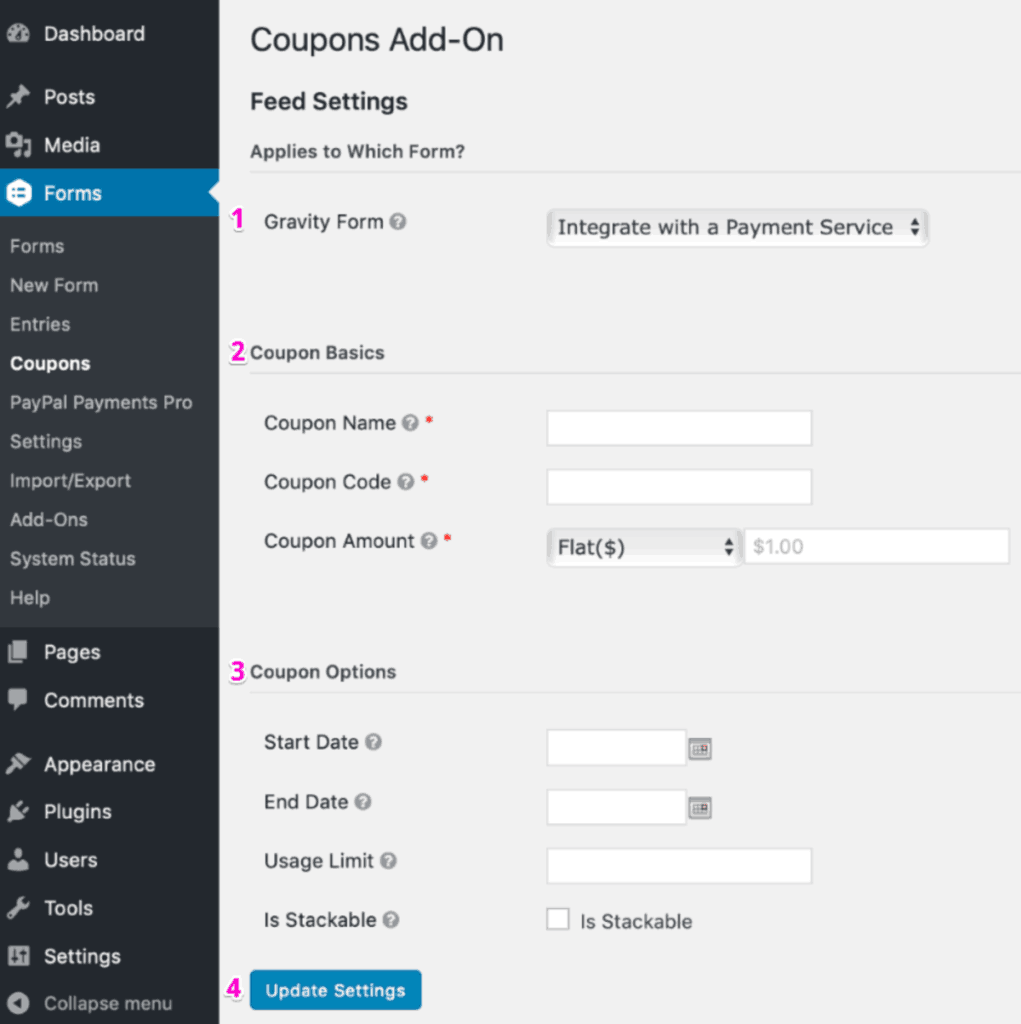 Ninja Forms
With Ninja Forms, it's the exact same idea as the Gravity Forms plugin above. That is, you can create your own customized payment forms and offer coupon codes as needed.
Ninja Forms does not have a dedicated coupon add-on like Gravity Forms. However, they do have a detailed guide that shows you how to add coupon functionality using conditional logic and price calculation fields.
The only downside is that this approach doesn't let you set usage limits or expiration dates.
Start Working With WordPress Coupon Codes Today!
That wraps up our big guide on using coupons in WordPress.
Whether you want to create your own coupon site to generate affiliate commissions or you want to offer coupons to your own customers, we hope you found this guide useful.
Now get out there and start discounting!