As a business owner, you can't afford to have visitors see a generic 'under construction' page or an error page on your website. This devalues your brand and can lose you potential customers. If your WordPress website isn't ready for public viewing, whether the site hasn't been built yet or is still under development, creating a 'coming soon' page is a smart move.
Whether you've got new products in the works or your website simply isn't ready for its grand debut, Coming Soon pages are a smart move!
Click To Tweet
Setting up a coming soon (or placeholder) page for your WordPress site gives potential customers an avenue to follow, rather than simply an empty website. Your coming soon page can be used to help your site build a customer base before it even launches, by collecting email addresses, sending customers to your social media accounts, or providing a countdown or message about your launch date.
Fortunately, a coming soon page is also easy to set up. In this article, we'll show you how to create a coming soon page for your WordPress site, so you can get a jump on pointing traffic to your site. First, let's talk about why this page is so important!
What a Coming Soon Page Can Do for Your Site
In most cases, a coming soon page is used when your site isn't ready to be viewed by the public just yet. You may be building a new site, for example, or your existing site might be down for rebranding or re-designing.
No matter why your site isn't available to potential customers or readers, a well-designed placeholder page can help: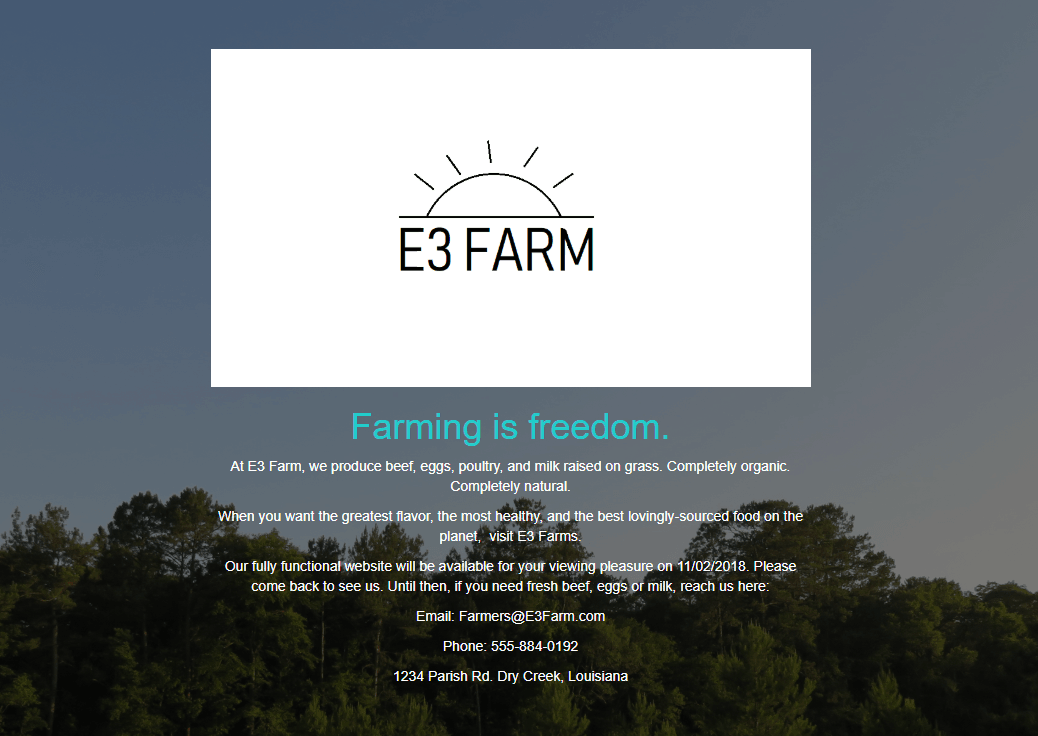 Sending your customers to an existing page with a positive message is a much better alternative than an error page or a too-simple 'under construction' page. Those pages aren't informative, don't capture leads, and will hardly keep visitors coming back.
As a business owner in particular, the benefits of creating a coming soon page are numerous. Not only will the page help you retain visitor details, but it can also provide your readers and customers with valuable information. Let's go over a few of the ways a placeholder page can help you gain traffic and customers before your site officially launches.
Email List Building
A list of customer email addresses is an extremely valuable asset to have. You can easily reach those customers (or potential customers) through their inboxes at any time you'd like.
With a coming soon page, you can begin growing your email list before your site even launches. To do this, you can include an opt-in or sign-up form, along with a strong Call To Action (CTA). Interested potential customers will enter their email addresses, and your list will start to grow. You can then send out periodic emails leading up to the day of your website's launch, to keep them 'on the hook' (so to speak).
Redirecting Visitors
Another way to capture the attention of your potential customers is to send them from your coming soon page to another website or social media page. This works well if you have a specific product or landing page you can send customers to, with products or other vital information you'd like them to access.
This is also an excellent way to build up your social media following. By including your social media buttons on your coming soon page, you can invite visitors to follow your accounts while your site is still in progress.
Search Engine Optimization (SEO)
It's never too early to start on your site's Search Engine Optimization (SEO). This term is a catch-all for the many techniques involved in getting your pages ranked highly in search engines like Google. Even though your coming soon page may not include a lot of content yet, there are several ways to get a jump on SEO at this point.
Older or more established sites have an advantage over newer sites, so your coming soon page can help to get it noticed earlier. You can also include valuable SEO content on the page itself, and in the meta description, titles, tags, keywords, and even images.
Brand Building
Your coming soon page is the first place you get to make an impression on new visitors to your site. This is the perfect opportunity to impress them and make your business memorable.
Therefore, you'll want to include the most valuable information that new visitors need to know. At the same time, keeping the page clean and stylish can help you show off the 'personality' of your business. By displaying your logo, colors, and other brand-identifying information on your coming soon page, you can start establishing an online presence as soon as possible.
How to Create a Coming Soon Page for Your WordPress Site (In 3 Steps)
If that list of benefits sounds appealing, you're in luck. Creating a coming soon page for your site isn't a difficult task. Plus, if you're using WordPress, there are many plugins that can help you create the perfect placeholder page – most of which are free.
All you have to do is install one of those plugins, set up the page, and enter your information. Let's get started!
Step 1: Choose a Coming Soon Page Plugin
When it comes to using a plugin for your coming soon page, there are many choices available. While you don't need a plugin to create this page, many of them offer solutions to make the process easier. This includes templates to get you started, the option to customize elements like backgrounds and colors, key features such as opt-in forms, and more.
There are many plugins you can use for creating WordPress coming soon pages. These include:
Any of these plugins can do the job, so which one you choose will come down to personal preference and your unique goals.
Step 2: Install and Configure the Plugin
Once you've chosen a coming soon plugin, you'll need to set it up. Even if you've never done so before, installing a WordPress plugin is a simple process.
Once the plugin is activated, it's time to configure how you want it to work. As an example, we'll walk you through configuring the most popular plugin on our list, Coming Soon Page & Maintenance Mode.
Installing this plugin will add a new dedicated page under your WordPress Settings: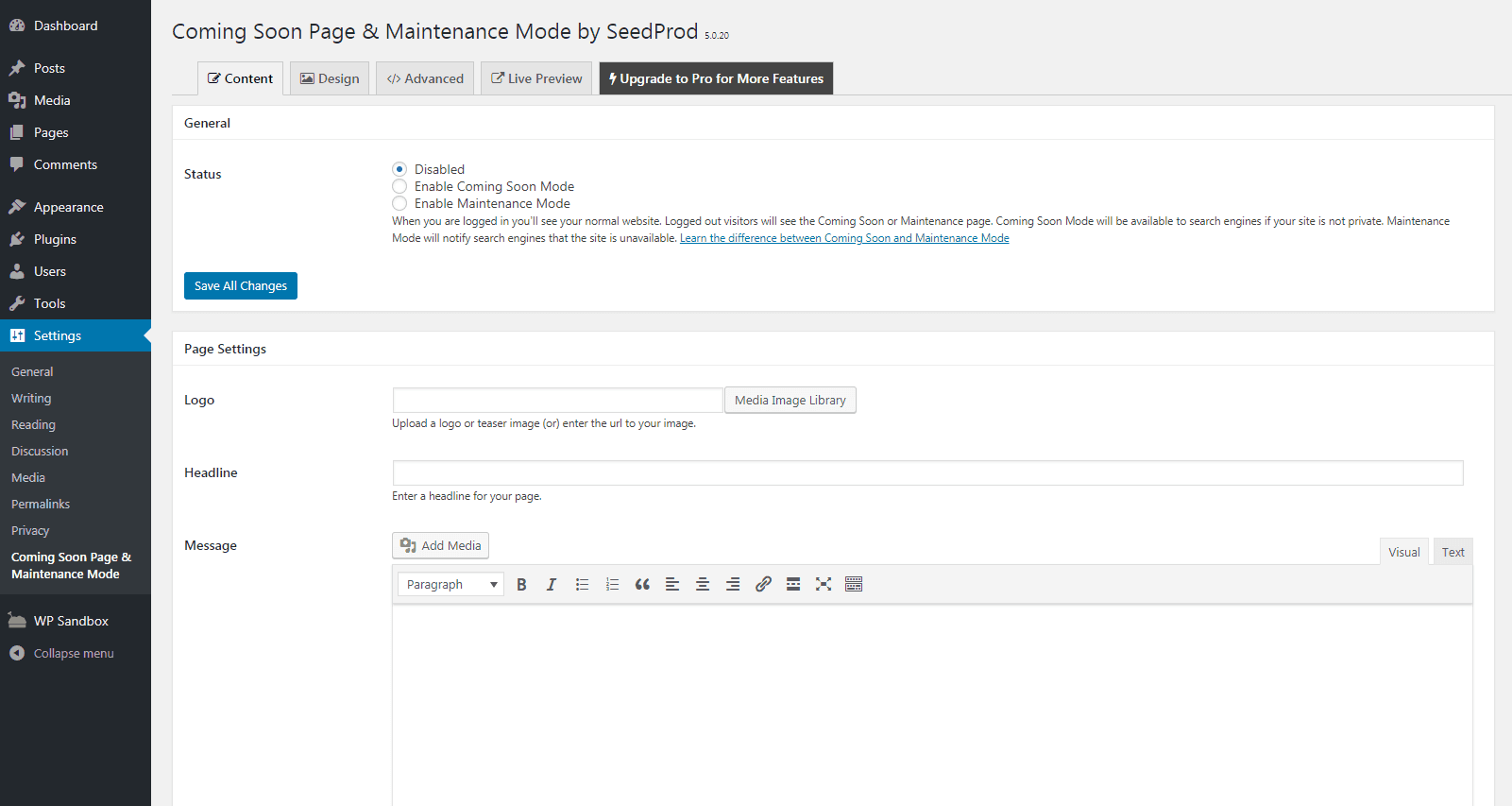 Here, you'll find tabs that will enable you to set up the plugin. The first thing you'll want to do is choose Enable Coming Soon Mode in the Content tab. Enabling Maintenance Mode will tell search engines that your site is unavailable, which is not what you want.
Also in the Content tab, you can also upload your logo, message, and headline. Near the bottom of the page, you can enter in the SEO information for the page:

This includes the page's meta title, meta description, and any analytics code you want to use to keep track of traffic and numbers.
Then, click on the Design tab to configure the colors and background of your coming soon page: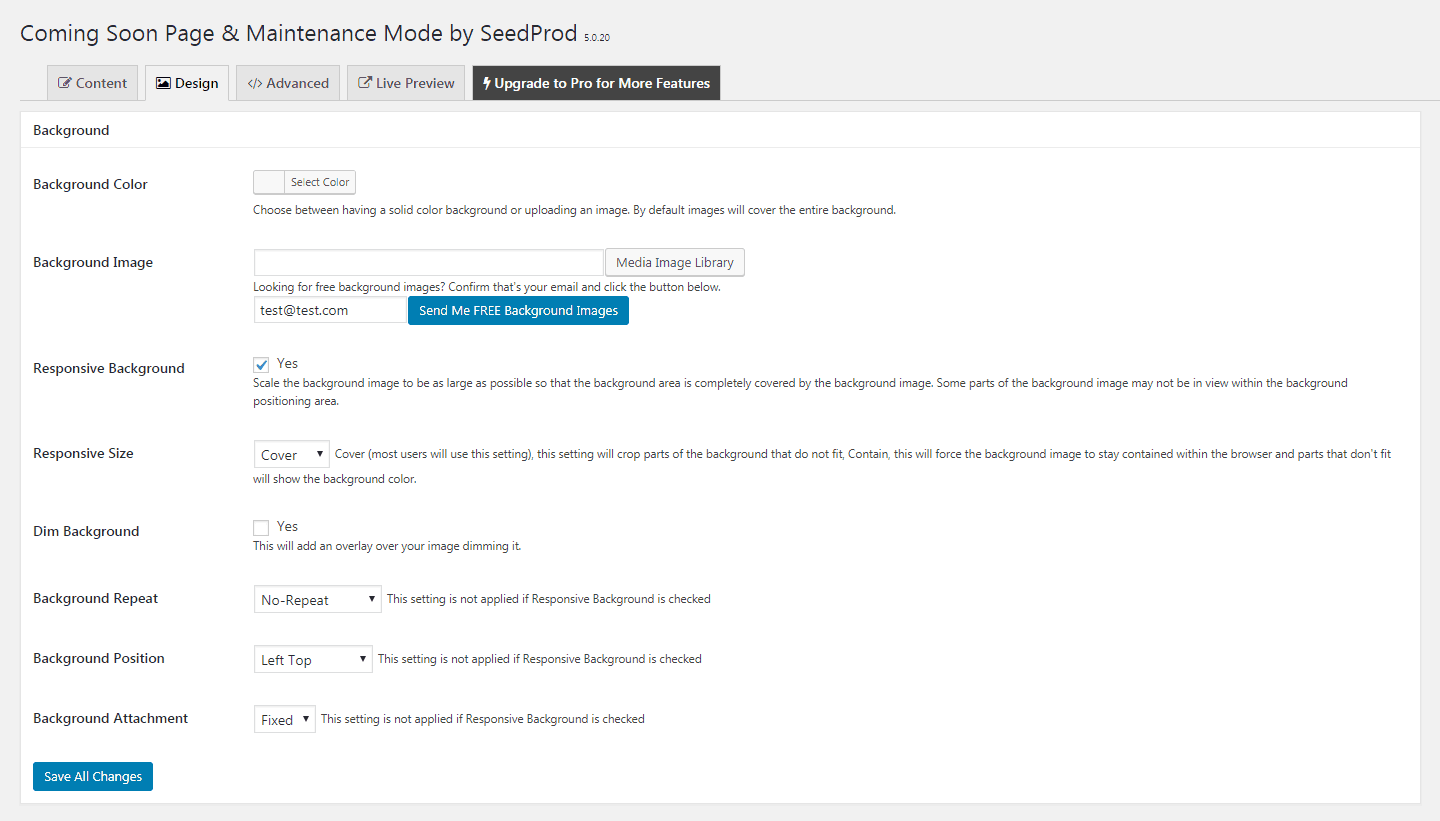 You most likely won't need the Advanced tab, unless you want to customize the page's HTML or scripts. However, you may want to use the Live Preview tab to see what your page looks like on the front end. After the basic information is in place, all that's left is to perfect your coming soon page's design.
Step 3: Design Your Coming Soon Page
You'll want your coming soon page to be unique, so how you design it will be largely up to you. However, here are some tips to keep in mind throughout the process:
Be sure to include your brand colors, logo, and tagline.
Consider adding an opt-in form, to encourage visitors to sign up for your email list.
Include relevant links to your social media accounts, or other pages where you'd like to send visitors while your website is down.
Add your business contact information or a contact form, so potential customers can reach you if necessary.
Some great tips in this article if you're looking into creating a killer Coming Soon page. (Like add a contact form for potential customers to reach out ?) Check it out!
Click To Tweet
Most importantly, you'll want to include a prominent CTA on your coming soon page. This is a smart way to persuade visitors to take action, rather than simply clicking away from your website.
Conclusion
At this point, you know that creating a coming soon page for your WordPress site is not only important – it can be critical to your business. This page can be used to capture leads, send visitors to your social media pages, provide information on how to contact you, and much more.
To create your own coming soon page, all you need to do is follow these three steps:
Choose a coming soon page plugin.
Install and configure the plugin.
Design your coming soon page.
Do you have any questions about how to design an effective coming soon page on your WordPress website? Let us know in the comments section below!
Image credit: PublicDomainPictures.net.