If you are new to WordPress then you might be unaware that conferences called WordCamps are held on a regular basis, all around the world. At these events attendees can improve their knowledge on all aspects of using WordPress by sitting in on presentations from local and international speakers that are experts in their respective fields.
WordCamps and other WordPress-related events are great opportunities for learning and cater to all levels of ability, from beginner bloggers to advanced coders. Whether you are just starting out with WordPress, or you want to keep your programming and development skills up to date, there will often be a selection of talks of interest to choose from at each event – not to mention the excellent opportunities to network with like-minded individuals.
However, if you aren't fortunate enough to live in an area with regular WordCamps taking place, you just can't find the time to attend a local event, or you'd like to hear from a wider range of speakers from events held further afield, there is a free website that can provide you with the next best thing to attending a live event in person.
That website is WordPress.tv and it's a free online archive of presentations from WordCamps and related events that have taken place around the world.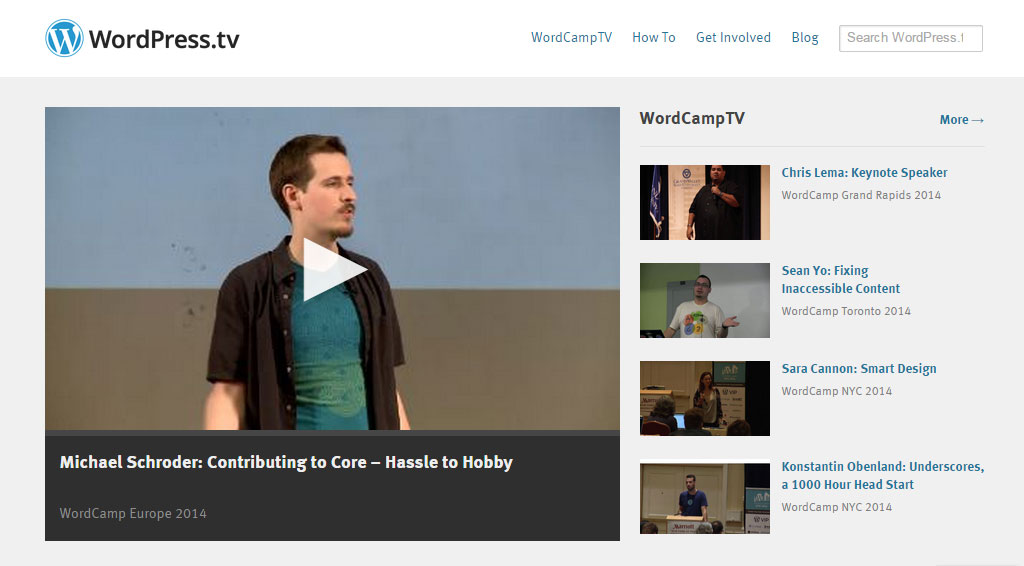 Improve Your WordPress Skills with WordPress.tv
While video recordings of the presentations from a conference can't replicate the experience of attending an event in person, there are many benefits of having access to a continuously growing archive of WordCamp talks.
The benefits of being able to view presentations you'd otherwise miss out on, due to time constraints or logistical factors can't be overlooked. However, being able to pick and choose the presentations that most interest you from events held around the world is a big advantage. So too is the ability to experience the presentations on your own schedule, from the comfort of your own home.
With WordCamp presentations ranging from short introductions to a topic, through to in-depth analysis, being able to quickly switch to WordPress.tv and top up your knowledge and learn new skills and abilities is a great way to productively fill a free period in your schedule of any length.
Finding the Best Content on WordPress.tv
To make navigating your way around the website more convenient, the video recordings on the WordPress.tv website are helpfully categorized by event. From the WordCampTV section of the website, you can view the events in reverse chronological order, and then click through to access the video recordings from each of those events.
You can also use the latest videos widget which displays links to the newest content that has been added in the sidebar of the website to find the freshest content. To reflect the global reach of WordPress, the events can be filtered by language, as well as those videos to which subtitles have been added.
This means that even if English isn't your preferred language, it doesn't mean you have to miss out on the great content from WordPress.tv.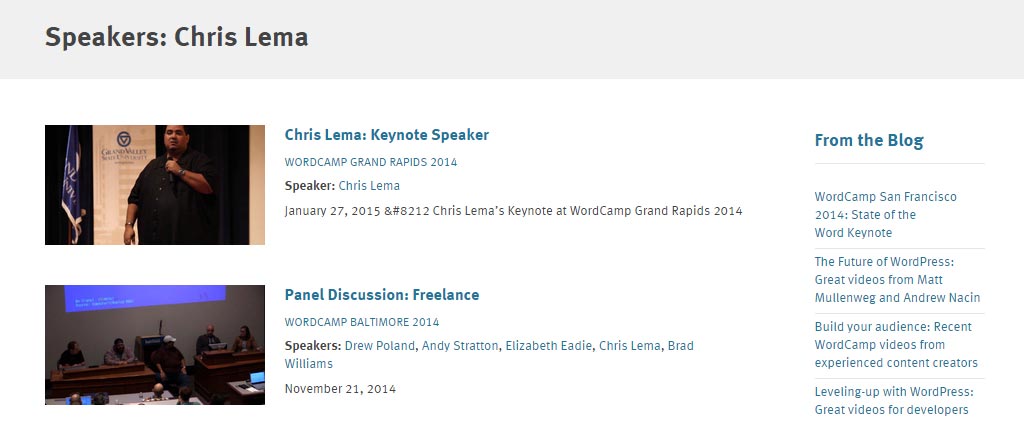 When you dive into a video page, as well as viewing the presentation recording itself, you can also find links to other videos from the same event, as well as those from the same speaker. Furthermore, you can also download the videos for later viewing or watching on the go, and access the presentation slides if they are available.
Popular WordCamp Speakers
While some recordings feature first-time speakers, you will soon notice that other presenters make repeat visits to the stage at their local events, as well as at the national and even international conferences. If you find a speaker whose style or area of expertise resonates with you, then the WordPress.tv website makes it very easy to find more recordings of their talks.
To take advantage of the ability to filter the videos by speaker, some popular presenters to help you get started include WordPress co-founders Matt Mullenweg and Mike Little, blogging and pricing expert Chris Lema, entrepreneur Syed Balkhi, WordPress lead developers Andrew Nacin and Helen Hou-Sandi.
The website also has a blog which highlights some of the best presentations from recent WordCamps. Subscribing to the RSS feed of the website is a great way to stay abreast of all the latest news and content from WordPress.tv.
Conclusion
If WordCamps are yet to take place in your local area, or they do but you can't find time to attend then, then WordPress.tv gives you an opportunity to improve your WordPress skills and knowledge regardless of your current situation.
While it's impossible to replicate the face to face networking opportunities that conferences like a WordCamp can offer, having an extensive archive of presentations from the latest WordCamps is a valuable resource to have at your disposal.
So if you want to ensure you don't miss out on the presentations from the latest WordCamp events, or you just want more of the most up-to-date knowledge from the WordPress community, available on your own schedule, then a visit to the WordPress.tv website is highly recommended.
Also, don't forget, if there isn't a WordCamp scheduled for your local area, there is nothing stopping you from looking into how you can become an organizer and start something which has the potential to benefit your local community.
Do you attend WordCamps or other WordPress-related events? If so, what value have you gained from doing so? If you've yet to attend an event like this, is there any particular reason why? Please let us know in the comments below.